Selling hosting packages to customers can be a profitable venture. However, sourcing and configuring hosting hardware and software can be expensive and challenging. With reseller hosting, you can offer services that rely on existing infrastructure, and still provide an excellent user experience.
In this guide, we'll answer the question: "What is reseller hosting?" (which gets asked quite a bit!) We'll also explain how you can get started with it, and recommend some reliable hosts. Let's get going!
What is Reseller Hosting?
To put it simply, reseller hosting lets you buy hosting packages in bulk, and then sell them to your clients. The company you purchase from will provide the hardware, software, and general infrastructure to host your customers' websites.
You can then brand the services as your own and manage the business aspects for your clients. In most setups, you'll be in charge of customer support, billing, and allocating resources according to your clients' needs. While the hosting company still covers the physical part of the deal, you're taking on the role of the host for your clients.
Reseller hosting is generally marketed toward web-based companies with active client bases. You can increase your profits and keep customers loyal to your business by selling these services alongside what you already offer.
For example, if you sell web development or design services, you likely have customers looking for hosting. Therefore, you can resell packages to meet all of their needs, without the need to invest in and manage the infrastructure involved.
How Reseller Hosting Works
With reseller hosting, you'll purchase a wholesale subscription from a host. This plan will have specific allocations for storage space, bandwidth, and the number of websites it can support.
In some cases, reseller hosts might also provide premium services such as automatic backups, updates, and free SSL certificates for your clients. They may even sell you domain names or offer specialized customer support.
In other words, the company you partner with should provide all the hosting infrastructure you need. It's then your responsibility to personalize and market packages to your clients. As we said, you'll be in charge of customer service, setting prices, billing, and technical support. So it needs to be something you can handle and caters to your specific clientele.
Your clients will receive the same product as if they had purchased directly from a third-party host. However, they'll also get your personalized service and branding. Therefore, the setup may be more attractive to customers who already trust your business.
Furthermore, you can make a profit by offering managed hosting and taking care of more behind-the-scenes tasks. Your clients will receive better customer service, and you can maintain their businesses into the future.
How to Get Started with Reseller Hosting in 4 Steps
If you've decided to resell hosting packages, there are a few things you'll need to do first. Here are four simple steps to get you started!
Step 1: Make a Business Plan
As with any business, it's wise to create a plan when you branch into reseller hosting. This document can help you set goals, establish a budget, and guide your decisions.
When making your plan, we recommend identifying your target audience. In most cases, this will be your existing client base. You'll need to have a good idea of what they need and expect from their website hosting. If you're not sure, you could conduct a survey to learn more about their requirements.
During this process, you'll also want to determine your prices. Consider what level of customer support you'll offer in your hosting packages. Although reseller hosting is unlikely to make you rich, you can turn a profit if you budget accordingly.
You might consider using a business plan template to guide you through this process: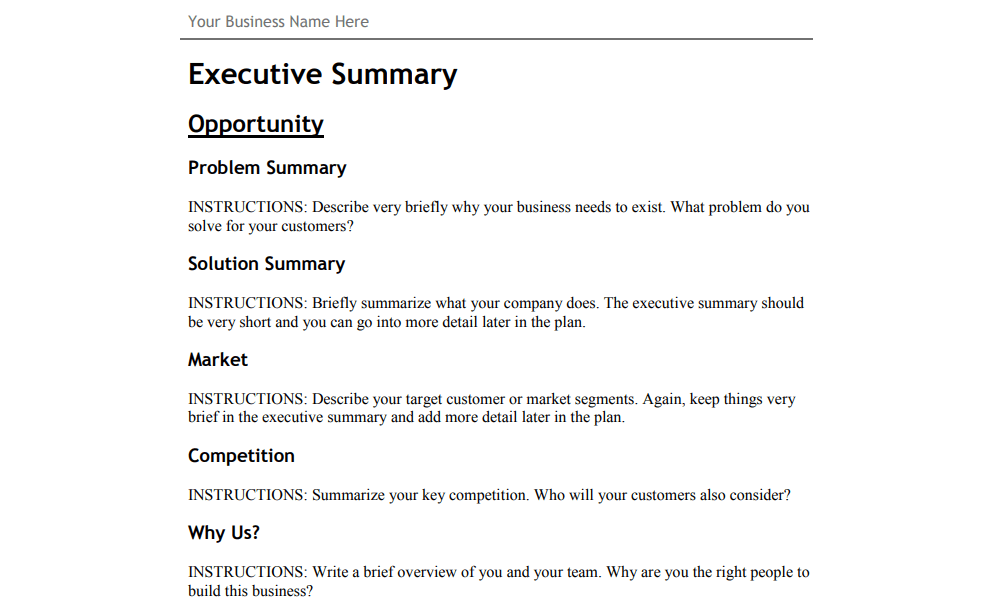 Simply fill in the blanks with your business-specific information. Then refer to the document often as you build your reseller hosting company.
Step 2: Choose Your Reseller Host
Choosing which hosting company you'll partner with is perhaps the most crucial step. If you make the wrong choice, you might be stuck with a subpar product that your clients don't want to use over the long term.
We recommend asking yourself the following questions when evaluating web hosts:
Do they have dedicated reseller plans?
Do their plans have enough storage and bandwidth for your clients' needs?
Will you have access to a dedicated dashboard to manage your hosting plans?
Does the company provide good customer support?
Are there possibilities for scaling up as your business grows?
Does the host offer white labeling services?
Do the hosting plans fit your budget?
Later in this article, we'll recommend a few top reseller hosts. You might want to check out those options to inform your choice.
Step 3: Set Up Your Hosting Packages
Once you've purchased a plan, we recommend spending some time getting familiar with your hosting packages. Your chosen host might have a specialized dashboard where you can customize your plans and manage their resource allocations.
Now is also the time to set up any other services you'll offer your customers. For instance, if you've committed to managed hosting, you might need to configure automatic updates and backups.
You'll also want to choose a Customer Relationship Management (CRM) platform such as Salesforce or HubSpot: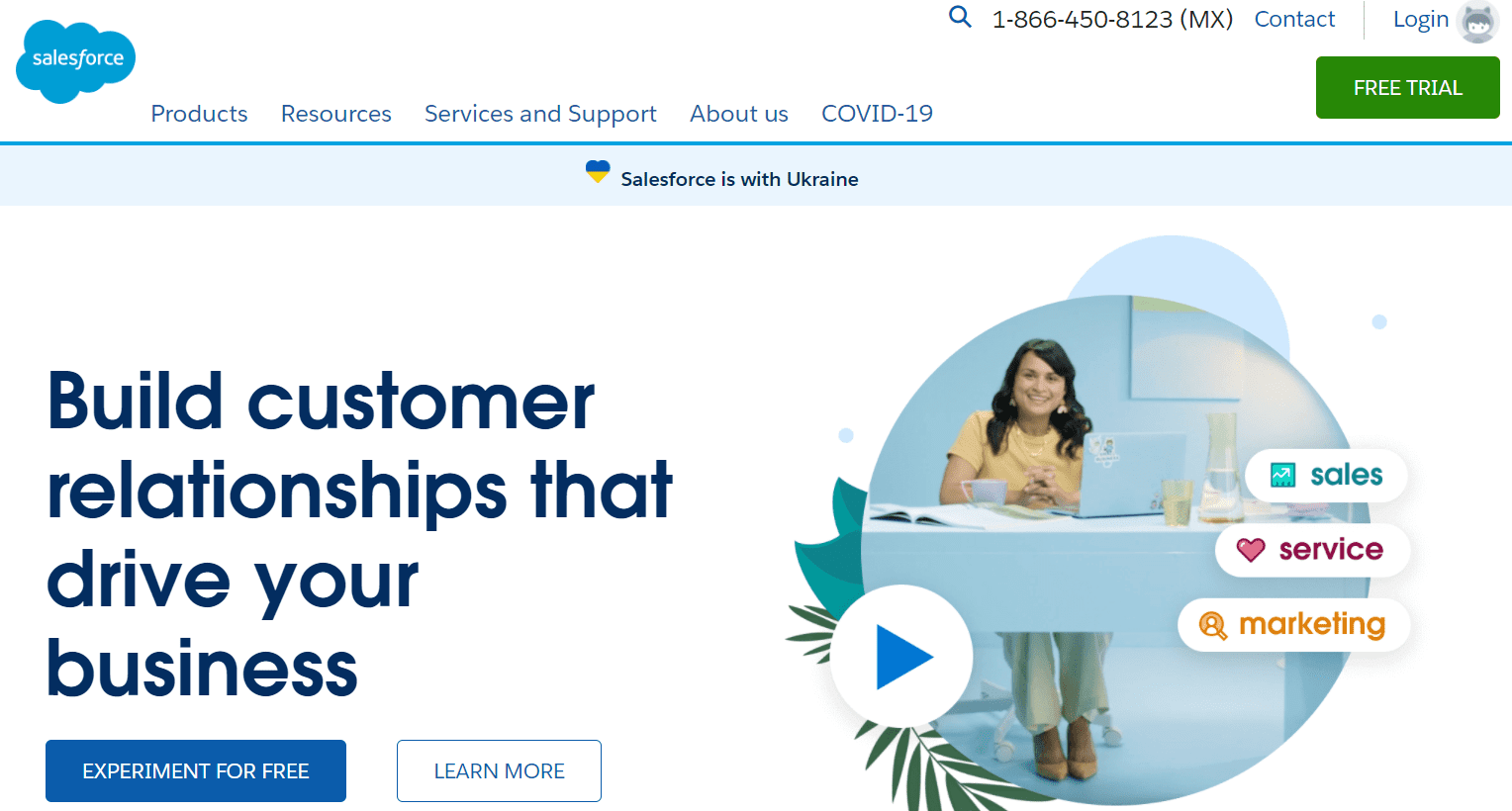 A CRM can help you manage your customer service and marketing strategies from a centralized hub. It's an essential tool to provide superior value to your clients.
Once you've configured your hosting packages, it's time to sell them. That brings us to the final step.
Step 4: Label Your Hosting and Market Your Plans to Customers
Ideally, you'll have chosen a host that lets you white label your packages to fit your company branding. Now, you can take the time to customize your hosting plans so they fit your existing brand voice.
The last task is actually selling your hosting packages to clients. You can reach out directly to your existing customer base through various avenues, such as:
Upselling and cross-selling can be another excellent strategy. For example, you might add your hosting services to existing service and maintenance contracts. This method enables clients to opt-in quickly and easily.
You can also reach new customers by paying for advertisements and optimizing your website for search engines. Once clients subscribe to your services, you might also consider asking for testimonials to boost your credibility.
4 Recommended Reseller Hosts
With so many reseller hosts available, it can be tricky to know which one to choose. Here's a quick overview of our top picks (in no particular order). We selected these providers based on their features, resources, support, and pricing.
Vetohost offers some of the most affordable reseller hosting packages on the market. You can use its services across an unlimited number of websites, and the company provides excellent customer support. Furthermore, hosting packages include free SSL certificates, access to a Content Delivery Network (CDN), and email marketing software.
Key Features for SiteGround:
40-270 GB web space
Automatic updates and backups
Unlimited databases and websites
User-friendly dashboard
Vetohost reseller hosting is for you if…
You want an affordable solution
You'll offer WordPress hosting
You're a beginner
SiteGround Pricing: Starting at $4.00 per month | Learn More About Vetohost
2. Flywheel

Flywheel provides sophisticated reseller solutions beyond simply hosting. You can also resell SSL certificates, premium customer support, migrations, and more. As such, Flywheel could be a great choice if you want to sell all-inclusive packages to your clients.
Overall, Flywheel is best suited to agencies (and to a smaller extent, freelancers). It comes with a dedicated portal and resources to help you take your business to the next level. However, the cheaper plans will limit the number of sites you can support.
Key Features for Flywheel:
Support for 10, 30, or unlimited sites
20 GB + storage space
200 GB + bandwidth
Account management services
Flywheel reseller hosting is for you if…
You run an agency
You're looking for a complete reselling solution
You want to grow your reseller business fast
Flywheel Pricing: Starting at $115 per month | Learn More About Flywheel
3. Liquid Web

Liquid Web could be ideal if you want to resell dedicated, Virtual Private Server (VPS), or cloud hosting. It offers plans for Linux and Windows systems, with customizable packages to meet your and your clients' needs.
Keep in mind that you'll need to be approved to resell Liquid Web packages. With that approval, you'll get access to SSL certificates, backups, DDoS protection, and more. However, you'll need to provide your own customer support to your clients.
Key Features for Liquid Web:
8-64 GB storage
2 or 4 SSD drives
Automatic backups
Free WHMOS license
Liquid Web reseller hosting is for you if…
You want to offer diverse hosting packages
You focus on customization
Security is a top priority
Liquid Web Pricing: Starting at $99 per month | Learn More About Liquid Web
4. HostGator

Finally, HostGator is another great affordable option for reseller hosting. It offers more storage and bandwidth than many other companies at its price point, making its plans excellent value for money. Moreover, HostGator reseller plans can support an unlimited number of websites.
HostGator is also a customizable option that enables you to allocate resources to your clients as needed. It even has integrated billing software, so you can manage your reselling business from a centralized dashboard.
Key Features for HostGator:
60-140 GB storage
600-1400 GB bandwidth
Unlimited websites
Free billing software
Flexible client services
HostGator reseller hosting is for you if…
Affordability is a priority
You want to work with multiple clients
You want an integrated and customizable solution
HostGator Pricing: Starting at $19.95 per month | Learn More About HostGator
Conclusion
Reseller hosting involves buying hosting packages at wholesale prices. You can then offer personalized plans to your existing clients and increase your profits. This setup enables you to earn more revenue without investing in hosting hardware or software.
To get started, you might want to partner with any of these hosting companies:
Do you have any questions about reseller hosting? Or do you have any tips for soon-to-be resellers? Let us know in the comments section below!